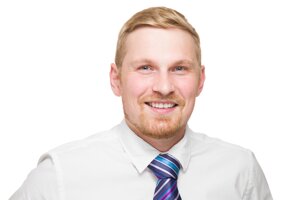 Dr Andrew Dunn
Dr Andy Dunn is a dentist with a philosophy of providing pain free dentistry and involving his patients in all their treatment decisions.
Andy grew up in beautiful Yorkshire in England. He graduated from The University of Leeds, and started his dental career in practice in the UK. Andy then undertook a 12 month training post in Oral and Maxillofacial Surgery, where he gained valuable experience in the surgical aspects of dentistry.
In 2012 Andy and his now wife Katie moved to the Sunshine Coast, drawn here by the great year round weather and the potential for a more outdoor lifestyle. After a short period working for Queensland Health at Caloundra Hospital Andy has spent most of his time in Australia working in family focused dental practices. Andy enjoys getting to know his patients, listening to his patients' concerns, and coming up with suitable treatment options.
Outside of dentistry Andy enjoys playing soccer and currently competes in the local Sunshine Coast Friday evening league. He lives locally with his wife and spends most weekends taking advantage of all the outdoor activities the Sunshine Coast has to offer.